The Last Syrah!
December will see the release of the 2007 Shadow Canyon Cellars' red wines.

Unfortunately, these will be the last Shadow Canyon Wines for a number of years.

In 2005 I created a limited cuvee named after my son David Salvador Gibson, a harvest baby born on September 14th, 2005. Attempting to squeeze family, day job, managing the vineyard, and making wine was always difficult (you can only work so many 70 hour weeks). As my son approached his 2nd birthday, I realized I was missing out on his life and it forced a tough decision. Although I love winemaking, my family was more important. I did not want to look back years from now, with some great wines under my belt, only to realize I missed my son growing up (we are only having the one). Last year I decided it was time to make the difficult decision and pull back from winemaking.

So I will be stepping back to hang out with my family and teach my son to surf, sail, and ride the ATV through the forest that surrounds Shadow Canyon Vineyard. He will learn about bud break, shoot-thinning, veraison, and picking fruit when it reaches that magic moment where the planets align and it is ready to harvest. I hope that growing up around the vineyard will help him catch the wine bug and we can someday become a winemaking team.

I am now concentrating on finishing a house at the vineyard, plus looking at planting a three acre rock strewn ridge line on the property that should produce killer Grenache.
To those who have visited, you know Shadow Canyon is a beautiful 40 acre forested mountain side site. The rocky vineyard is planted to 9 ½ acres of Syrah and 1 ½ acres of Alban clone Grenache. I have some great wineries purchasing Shadow Canyon fruit who will carry on the tradition of producing mountain grown Syrah.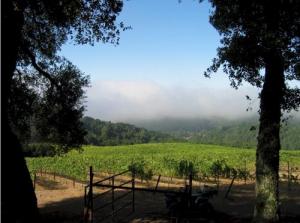 Now on to the 2007 wines, some of the finest Shadow Canyon reds to date.


The 2007's are impressive because of how approachable they are at such a young age. The growing season began with early budbreak and veraison, a blazing hot August, then a nice moderate September that pushed harvest into October. October harvest is always more relaxed, with the cool weather extending the growing season and allowing us to pick each individual block when it is perfectly ripe. The top block of Syrah (clone 470) was harvested on September 29th, with the balance of the fruit off the 11 acre vineyard coming in slowly over the next 27 days. The long hang time and ripening led to smooth, ripe tannins and nice jammy fruit. We saw the similar conditions at the Larner vineyard, with the Grenache harvested on November 6th. Great hang time and ripeness! The 2007 reds spent 27 months in 100% French oak barrels, 40% which were new. If I was limited to a few descriptors of the 2007 reds, I would have to say they are balanced, elegant and will age gracefully for years.

The 2007 Syrah has great structure and mouth feel with blueberries, blackberries, pepper, and a spiciness typical of cool climate syrah. A deeply colored wine, it has a rich mouthfeel supported by beautifully textured tannins. As with all of the reds, the Syrah will beg for a couple of hours of decanting before drinking.

The 2007 Grenache is very similar in mouthfeel to the Syrah. Concentrated with broad tannins but very ripe and smooth on the palate. Loaded with dark fruit in the nose, this wine has great structure and will age for years.

Bottled alongside the 2007 reds is the 2005 Paeonia late harvest botrytis Pinot Blanc from Bien Nacido Vineyard in Santa Maria Valley. This baby spent 43 months in barrel! Picked on November 22nd, the fruit was harvested at 40 brix and finished at 18% residual sugar and 11.8% alcohol. If you like dessert wines, this wine is sweet and unctuous with a huge nose of apricot and honey.

Only 140 cases of Grenache, 150 cases of Syrah and 140 cases of the Paeonia late harvest Pinot Blanc (375 ml.) were made, so unfortunately there is not a lot to go around. Due to our limited production, the wines are sold on a first come, first serve basis.

The wines will ship in mid December of 2009 when the weather cools and we finish hand waxing each bottle.

Thank you for your support of Shadow Canyon wines over the years. Gary Gibson


A few words from Robert Parker after tasting barrel samples of the 2007 vintage.



Wine Advocate #177 – June, 2008


2007 Syrah - Shadow Canyon Vineyard, York Mountain (90-93 points)
Promising is the brilliant 2007 Syrah Shadow Canyon Vineyard syrah, which exhibits a dense purple color along with sweet creme de cassis, blackberry, bay leaf, forest floor, and spring flower characteristics. Full-bodied with excellent precision and freshness, it should be a terrific red once it has been bottled.

2007 Grenache, Larner Vineyard, Santa Ynez Valley (92-94 points)
A potentially sensational cuvee is the unevolved 2007 Grenache Larner Vineyard. This black/purple-tinged wine represents the essence of Grenache. It possesses gorgeously sweet black raspberry and black cherry fruit intermixed with notes of licorice, graphite, and incense. Pure, rich, and full-bodied, it is a stunning example that comes close to equaling the two finest Grenaches of the region, the Sine Qua Non and Alban Vineyard efforts. Drink this beauty over the next decade.